Vendors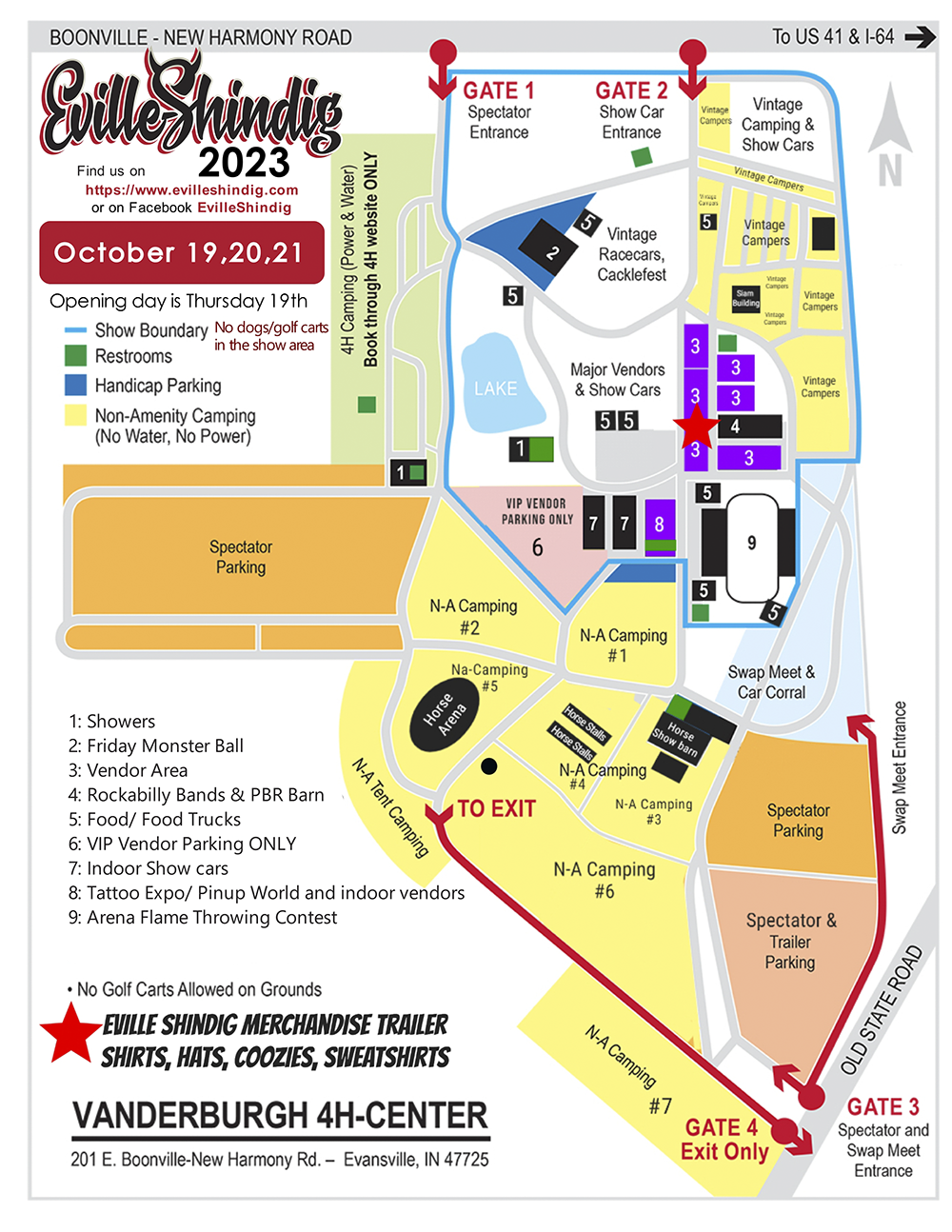 Registration for Eville shindig 2020 are now closed. Don't worry though, you can still register at the gates starting Thursday October 15th, set up day at 9:00 a.m. Friday Oct. 16th, Saturday October 17th 9am and Sunday October 18th 9am. See you there. Going to be a great weekend for Hot Rods.
Vendors spaces are indoors or outdoors, first come first serve basis. We have many great spots to choose from and all are within the show boundary line with close proximity to everything.


If you are serving food you need to contact me directly before registering. We are limiting food vendors to only a few at this time. Please view our contact page to get in touch.
# 3 on the Map:
Outside spaces are under roofed barns with open sides, and most have concrete floors. Most also have electric if needed with lights for night time sales.
# 8 on the Map:
Indoors vendor spaces are inside the activities building. Most spaces will have electric. This is perfect for lowbrow art vendors, tattoo artists, etc.
# 4 on the Map:
Pin Up World is located inside the band barn. There are spaces in front of the entrance to the enclosed area that are roofed on concrete with open sides. There are spaces inside the enclosed band stage area where the bands play (This could be Loud but busy). There is also another roofed with open sides area behind where the bands play. We want anything to do with pin up girls, hair, make up, photography, nails, clothes, shoes etc. This is where you will be unless you choose otherwise. Spaces are first come first serve.
Cost is $100.00 for a 10'x10' space. This includes 1 wristband for the entire weekend.
Each additional space is $50.00, making spaces 20'x10', 30'x10', 40'x10' etc. 10' deep with 10' adding to the width.
All commercial vending spaces are for either new or used merchandise (preferably new). Large commercial vendors such as parts sellers with large trucks and trailers will pay $500.00 per spot from 20x20 up to 20X60.
We will try our best to accommodate you with the best spot possible but this is a first come first serve basis. You will also be within the show boundary. This comes with 2 wrist bands and a parking pass.
Silver level sponsors or higher get their space for free. message me for sponsorship info.
---
Pinstriping
All Pin-stripers on the grounds are considered vendors and must pay the $100.00 vending fee to be able to pinstripe.
We try really hard to only have a few choices. We want our Stripers to be good and busy all weekend.